The Bluntforce is a Rare Ranged Weapon in Unturned 3. It uses 12 Gauge Shells and holds 8 rounds in the chamber. It spawns with the Bluntforce Iron Sights pre-attached by default. The Bluntforce takes up 10 (5x2) slots in the inventory.
Acquirement:
Germany: It can spawn at the Fernweh Prison and police stations.
PEI: The Bluntforce can be found at O'Leary Prison.
Washington: It can be found at Police Locations in Washington.
Yukon: It can be found at the RCMP Hut.
Analysis:
Advantages:
Disadvantages:
Has very limited range.
The ammunition is only found at a few select places.
Large size in the Inventory.
Cannot use Barrel Attachments.
Blueprints:
History:
| Version | Changes |
| --- | --- |
| 3.3.5.0 | The Bluntforce has been added to the game. |
| 3.3.9.0 | Removed ability to use Barrel attachments. |
| 3.15.0.0 | Added damage against objects, set as 12. |
| 3.15.12.0 | Fixed a bug where it was not spawning on Washington map. |
| 3.24.2.0 | Ranged tweaked from 20 to 35. |
Trivia: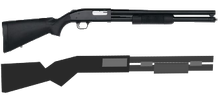 It is based on the Mossberg 500.
Unlike the shotguns in Classic, the 12 Gauge Shells are loaded as a magazine.
There exists a version of the Bluntforce which has a Barrel Attachment equipped, which is normally impossible, on Russia.

Wikipedia has an article about:
The Mossberg is a Ranged Weapon in Antique. It uses 12Gauge as ammunition, and holds 8 rounds.
Acquirement:
The Mossberg is found at Police Stations and Farway Airport's air traffic control tower. It can also be dropped from police zombies.
Analysis:
Advantages:
Disadvantages:
Trivia:
Weaponry (Antique)
| | |
| --- | --- |
| Handgun | |
| Rifle | |
| Carbine | |
| Assault Rifle | |
| Sniper Rifle | |
| Shotgun | Mossberg • Remington |
| Machine Gun | |
| Bow | |