Clearwater Campground is a civilian location in Washington.
Overview
Clearwater Campground has several tents, tables and a BBQ stand. It spawns civilian grade items, including the Fishing Rod and fishing clothing. Civilian Zombies are the only zombie type that spawn here.
Buildings
Here are all the buildings in this place:
Gallery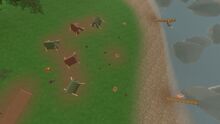 Ad blocker interference detected!
Wikia is a free-to-use site that makes money from advertising. We have a modified experience for viewers using ad blockers

Wikia is not accessible if you've made further modifications. Remove the custom ad blocker rule(s) and the page will load as expected.