The Eaglefire is a Rare Ranged Weapon in Unturned 3. The Eaglefire uses Military Magazines, Military Drums, and Military Tracers; which holds 30, 100, and 20 rounds respectively. It has the Eaglefire Iron Sights pre-attached by default, and the weapon takes up 8 slots in the inventory.
Acquirement:
Washington: The Eaglefire can be found in civilian locations of Washington. It has a greater chance to spawn in gun stores, and civilian zombies rarely drop it.
Russia: It can be found in a Carepackage.
Hawaii: It can be found in the Alika Base.
Analysis:
ADVANTAGES

DISADVANTAGES

Accepts any form of hook attachment.
Uses eight inventory slots.
Decent durability.
Low recoil.
Has burst firemode.
Burst fire limits firepower.
Good zombie damage (99) and player damage (40).
Excellent RPS.
Blueprints:
The Eaglefire can be repaired using 4 Scrap Metal and a Blowtorch.
History:
| Version | Changes |
| --- | --- |
| 3.0.0.0 | The AR32 was added to the game. |
| 3.0.2.0 | Increased physical recoil on AR32. |
| 3.0.5.0 | Default attachments can now be removed. |
| 3.0.9.0 | The AR32 was renamed to Eaglefire. |
| 3.6.7.0 | The Eaglefire can no longer use the Auto firemode. |
| 3.13.3.0 | The model was improved (rails and a charging handle were added). |
| 3.14.5.0 | Added burst fire mode. |
| 3.15.0.0 | Added damage against objects, set at 25. |
Trivia: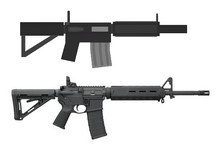 It was the first firearm to be added in 3.0, originally named the AR32.
The Eaglefire is based off of the AR-15, a very common civilian sporting rifle made by Eugene Stoner, chambered for a variety of calibers. The model appears to be most strongly based off of the Colt AR-15A3 Tactical Carbine.
Albeit illegal in most circumstances, the real AR-15 can be converted to allow for a 3-round burst.
The Eaglefire had a Military Suppressor, Eaglefire Iron Sights and Vertical Grip as default attachments in earlier versions making it the first firearm in Unturned to bear three attachments by default.
A part of its name may come from a common symbol of the United States, the Bald eagle.
If an Eaglefire was on automatic fire mode before the update that disallowed this feature, it is possible to be fired in automatic fire. If the fire mode key is pressed it cannot be put in automatic fire mode again.
It is the first weapon in Unturned to have a 3-round burst fire mode.