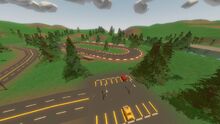 Kent Raceway is a civilian location in the south-western part of the Washington map. It's the only place only Racecars are spawned.
It is a reference to Pacific Raceway, a real location in Kent, Washington.
Overview
Racecars are able to spawn here usually in sets of two on the track. The landmark includes an oval racetrack, a parking lot, spectator stands and a small service station which and construction related items along with two car lifts similar to ones in mechanic shops. Civilian Zombies can spawn in the parking lot outside the track.
Loot spawns
Blowtorch, Carjack, Stealy Wheely Automobiley and Gas Cans can be found in the central service station along with various other items usually found in a typical mechanic area. Civilian grade items can also be found in the stands surrounding the track (e.g. Baseball Bats, Binoculars.) Several cars also spawn at the parking lot.
Buildings
Here you can see all the buildings present in this place:
Gallery
Ad blocker interference detected!
Wikia is a free-to-use site that makes money from advertising. We have a modified experience for viewers using ad blockers

Wikia is not accessible if you've made further modifications. Remove the custom ad blocker rule(s) and the page will load as expected.