The rarest drops are Mystery Boxes which, when opened, will give you a random super rare mystery item, or if you're extra lucky you might even get one that has a special effect like fire or sparkles! These require a key to open which cost $1 or your currency equivalent, and are a new way to help support the game if the Gold upgrade price seems a bit steep
. - Description on the
Steam News Annoucement

Mythics are effects in Unturned that are applied to rare cosmetics. They were released in the Steam Economy update.
Overview
Mythical items can be obtained by opening Mystery Boxes which are given as an in-game drop. The player then must buy a key to open the Mystery Box. After opening, the player has a rare chance of getting a mythical item. There are 25 mythical and 2 standard effects available for cosmetics so far.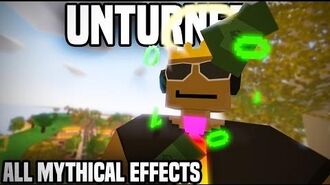 Mythics:
Lovely
Electric
Glowing
Shiny
Divine
Wealthy
Musical
Burning
Cosmic
Rainbow
Glitched
Bubbling
Party
Freezing
Energized
Haunted
Holiday Spirit
Meta
Pyrotechnic
Melting
Atomic
Confetti
Radioactive
Steampunk
Blood Sucker
Emissions:
Trivia
Similar effects are found in Team Fortress 2's "Unusual" hats, which are also found in similar crates.
Rainbow and Divine effects have been removed, they are unobtainable from drops. Purchasing them off the steam market place or trading are the only ways to obtain them.