Overview
The prison of Unturned 3.0's Canada map is one of the various unlisted locations. It has zombie spawns of prisoners and the Royal Canadian Mounted Police. There are a playground and lunch tables behind the prison. Their use is still debatable.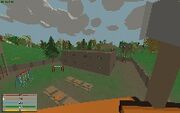 Item Spawns
Trivia
Some of the cells have doors that seem to be busted open from the outside.
There is one cell that has a closed door, that is heavily damaged and is barricaded with the bunk beds. It can be concluded that someone may have hidden in there for a while...
Ad blocker interference detected!
Wikia is a free-to-use site that makes money from advertising. We have a modified experience for viewers using ad blockers

Wikia is not accessible if you've made further modifications. Remove the custom ad blocker rule(s) and the page will load as expected.