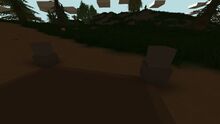 Stone Posts are the stronger counterpart to Wooden Posts . They can be placed in the four corners of a foundation or platform, like Pillars, but due to their reduced size they can only support ramparts. One Stone Pillar can be used to craft 2 of them. Has 3600hp.
Blueprints:
Ad blocker interference detected!
Wikia is a free-to-use site that makes money from advertising. We have a modified experience for viewers using ad blockers

Wikia is not accessible if you've made further modifications. Remove the custom ad blocker rule(s) and the page will load as expected.