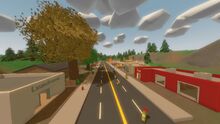 Tacoma is a civilian location in Washington in Unturned.
Overview
It is the smallest town in the map located near Puget Sound, and the unmarked radio tower. It is usually infested with Civilian Zombies and some Civil Servants Zombies. Tacoma has mostly Civilian Housing,
with one Practitioner Office, a Police Station, a Fire Station, Laundromat, Gas Station and Diner. The town only has one road, both going in and outward.
Buildings
All buildings in this town:
Gallery