The Yuri (pronounced /yo͞o,rē/) is a Rare Ranged Weapon in Unturned 3. It uses the 64 round Yuri Magazine as ammunition and spawns equipped with the Yuri Iron Sights. The Yuri takes a strong resemblance to the real-life PP-19 Bizon-2.
Acquirement:
PEI: The Yuri, along with the Yuri Magazine spawn at Ranger Locations on PEI.
Washington: The Yuri, along with the Yuri Magazine spawn at Ranger Locations on Washington.
Analysis:
Comparing the Yuri to other carbines.
| ADVANTAGES | DISADVANTAGES |
| --- | --- |
| Very compact secondary weapon. | Grip attachments cannot be added. |
| High magazine capacity. | High degrade chance. |
| Common spawn. | Horizontal recoil is present. |
Blueprints:
Repair
Salvage
History:
History

Version

Patches

3.12.3.0

The Yuri has been added to the game.

3.15.0.0

Added damage against objects, set at 15.

3.15.1.0

Tweaked player damage from 20 to 22.

Tweaked zombie damage from 75 to 80.

Tweaked animal damage from 20 to 22.
Trivia: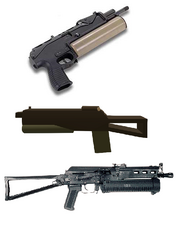 The Yuri is most likely based on the PP-19 Bizon-2 because of its notable small shape, short barrel, stock, olive grip and cylindrical magazine. It also shares some similarities with the PP90M1 for somewhat reason.
Like the Zubeknakov, the iron sights are done incorrectly, with the rear sight being located further back on the receiver.
The Yuri shares its name with the Uzy's Yuri Magazine.
The word "yuri," or "百合", is Japanese for "lily."
The description says that it is "chambered in Ranger ammunition." Instead, it should say that it is "chambered in Yuri ammunition."
The Yuri possesses a special reloading animation. The player lifts the gun vertically and replaces the magazine, then pulls the charging handle in a fashion similar to the Grizzly, Sabertooth and Snayperskya.
In Unturned, the Yuri is classified as a carbine. In real-life however, it is a personal defense weapon.

Wikipedia has an article about: